John B. Holds, M.D., F.A.C.S.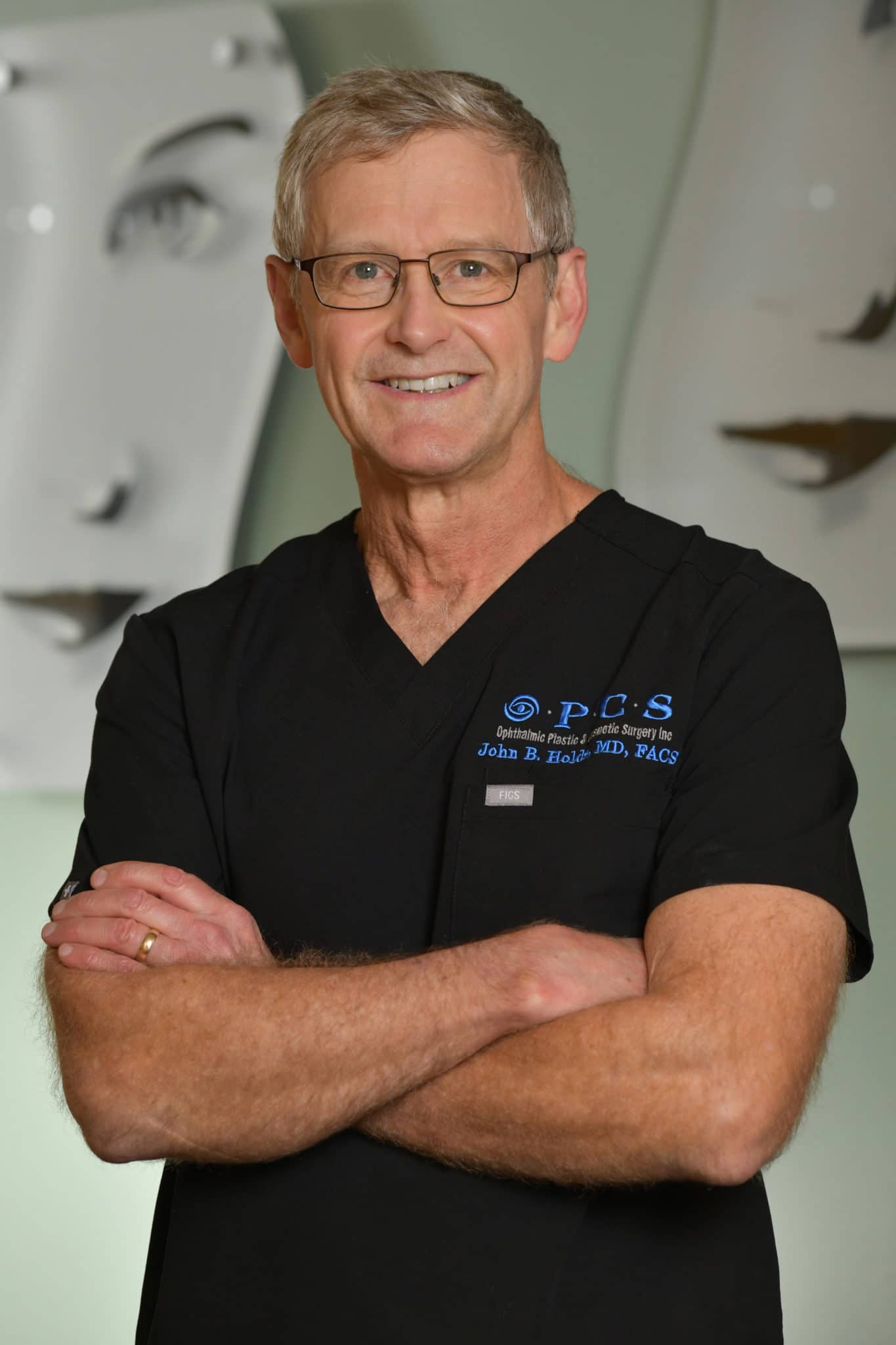 Ophthalmic Plastic Surgeon St. Louis MO
John B. Holds, M.D., F.A.C.S. is an Ophthalmic Plastic Surgery at Ophthalmic Plastic and Cosmetic Surgery in St. Louis, Missouri. Dr. Holds obtained his college degree summa cum laude at Trinity University in 1979, went to medical school at Southwestern in Dallas Texas, where he was "top five" in his class all four years, and completed residency at Baylor College of Medicine, Cullen Eye Institute where he was the chief resident from 1986-1987.
Dr. Holds was privileged to work with Richard Anderson MD in Salt Lake City for two years of fellowship training in oculofacial surgery. Oculofacial or ophthalmic plastic surgeons are ophthalmologists who perform cosmetic and reconstructive surgery in the eyelids and upper face, including cosmetic, tear duct and orbital (tissues behind the eye) issues.
Dr. John Holds was privileged to work with "Oculinum" toxin, which became Botox, when it was investigational in the 1980s, and performed original neuroanatomic and clinical work in this area. Dr. Holds is an author of over 100 peer-reviewed papers dealing with plastic and reconstructive surgery in the periocular area, along with numerous textbooks. He and colleagues have also run the popular PAWS series of surgery workshops in St. Louis since the 1990s. Selected for "Best Doctors in America" in 1994, and every year since, Dr. Holds makes it his mission to provide the best possible care to all of his patients. Eyelid and midfacial rejuvenation is an area of special interest to him.
Patient Testimonials
"I've been seeing Dr Holds for 28 years by far the best doctor I've come across and would highly recommend him to anyone looking for eye surgery or plastic surgery." – Rod C.
"Dr. Holds is the most talented surgeon I have ever been to. He is knowledgeable, kind, and does immaculate work. His office staff are the utmost professional and friendly, and there is always someone to answer your questions." – Dot H.
---
Schedule A Consultation
If you would like to schedule a consultation with Dr. John Holds, call us at 314-567-3567 today! Ophthalmic Plastic and Cosmetic Surgery serves St. Louis, St Peters, and surrounding areas in Missouri.
---
Undergraduate
Trinity University – San Antonio, TX,
Summa cum laude, Biology and Biophysics
---
Medical School
Southwestern Medical School – University of Texas
Southwestern Medical Foundation Scholarship
---
Ophthalmology Residency
Cullen Eye Institute – Baylor College of Medicine
Twelve-month chief resident
---
Fellowship
University of Utah School of Medicine
Ophthalmic plastic, orbital and oncologic surgery fellow with Richard L. Anderson, M.D
---
Certification
American Board of Ophthalmology
Fellow, American Society of Ophthalmic Plastic and Reconstructive Surgery, Inc. 1989
---
Dr. Holds' complete Curriculum Vitae is available for download here.
Read what our patients are saying!
Great everything was perfect. Great job and service
Click here to read more reviews.