Revision Eyelid Surgery
in St. Louis & St. Peters
What is Revision Eyelid Surgery?
Revision eyelid surgery usually refers to revision blepharoplasty. This refers to a secondary blepharoplasty procedure done to correct problems from initial eyelid surgery. Some of the best surgeons in the St. Louis area send such cases to our team at Ophthalmic Plastic and Cosmetic Surgery because of the experience in performing complex eyelid surgeries and revision blepharoplasty.
"How can I thank you enough for all you have done for me? I came to you after another surgeon ruined my eyes and you have devoted many surgeries to correct his major mistake. I am forever grateful to you and your wonderful staff. You are amazing!" – Noreen B.
---
Who is a candidate for revision blepharoplasty?
The decision to revise eyelid surgery is very personal and important. Undergoing a second procedure requires a precise and thoughtful approach. Therefore, it is necessary to consult with an experienced, board-certified plastic surgeon whose primary focus is the eyes.
Revision blepharoplasty is relatively common and sought by individuals who are unhappy with the initial results achieved with eyelid surgery. Some people seek revision blepharoplasty to resolve concerns related to postoperative scarring or to address the signs of aging that have recurred years after a prior blepharoplasty.
Good general health and habits such as tobacco avoidance are ideal characteristics shared by good surgical candidates. It is also vital that doctors and patients are on the same page before surgery and that realistic expectations of the possible outcome from surgery have been set.
---
How Long Should I Wait To Have Corrective Blepharoplasty?
Swelling and bruising can linger for several weeks after blepharoplasty. It is advisable that patients wait until all swelling has resolved to seek revision blepharoplasty, approximately six months after the first procedure.
---
Reasons for Corrective Eyelid Surgery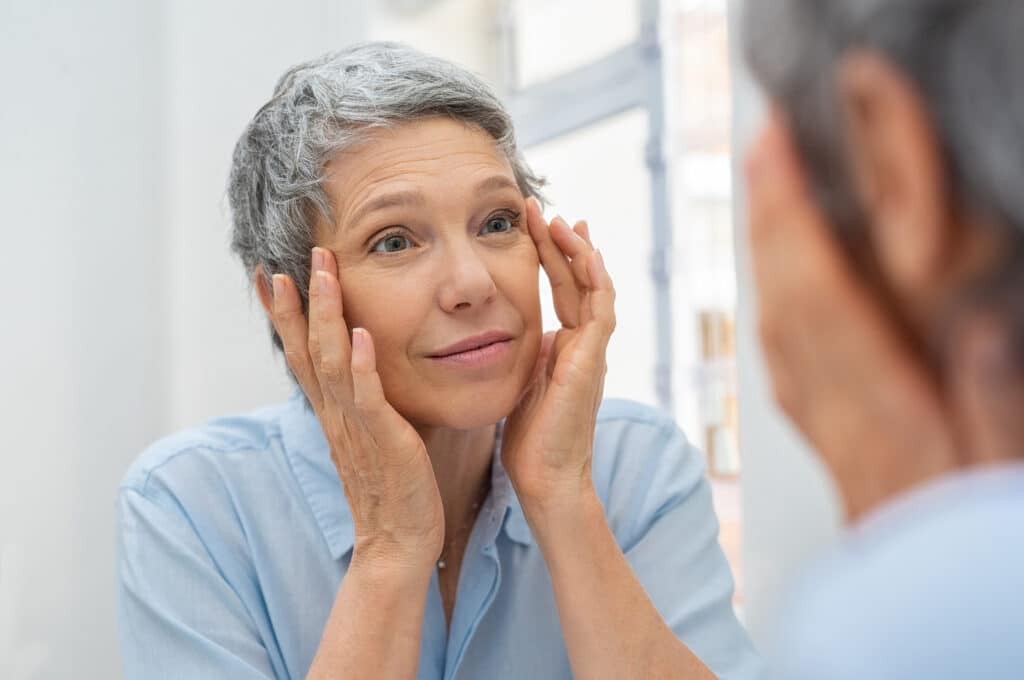 Some people feel that the doctor has not done enough to correct their droopy upper eyelids or undereye bags. In that case, they may wish to have another surgery to reduce the drooping and bags even more.
Obviously, it's very important to spend time with your doctor before your initial surgery to make sure he or she is aware of the final outcome that you want. This will decrease the possibility of your needing subsequent surgery. Nevertheless, it's far better to have excess tissue that needs to be removed than to have lost too much tissue in the first surgery.
In other cases, the eyes don't match well enough after surgery so that another procedure must be performed to improve symmetry. This often has to do with asymmetries that were present before the initial procedure, such as one eyebrow that sits lower than the other, causing one upper eyelid to droop after the first surgery.
In extremely rare cases, a complication may occur after a first blepharoplasty procedure which makes it necessary for revision eyelid surgery to correct the problem. These complications can include a prior excess excision of tissue with hollowing of the eyelids and difficulty with fully closing the eyes, a downwardly pulled lower eyelid due to scarring, or excess tissue excision or uneven eyelids.
---
What Issues Can Revision Eyelid Surgery Correct?
Revision blepharoplasty is often conducted to correct one of a few problems:
Under-correction. A second surgery may be sought to further enhance the eyes that were previously under-corrected by removing less tissue than was necessary.
Over-correction. The eyes can be overdone by removing too much tissue. Over-correction may make it impossible for the eyes to close completely, leading to dry eye. Too much tissue removal also leads to a misshapen appearance.
Ptosis. Drooping of the upper eyelid may occur due to aging or an anatomical anomaly. Some surgeons perform blepharoplasty to correct ptosis, but the technique needed for this problem is not the same as what is typically involved in cosmetic eyelid rejuvenation. After blepharoplasty, the levator muscle may continue to pull on the upper eyelid, resulting in a droop. In some cases, ptosis is the result of blepharoplasty and accidental disruption to the levator muscle in the upper eyelid.
Visible scarring may occur when incisions are made too high on the upper eyelid. Usually, incisions are made in the natural crease of the eye, where resulting scars will be well hidden.
Entropion is an eyelid condition in which the tissue on the eyelid turns inward.
Ectropion is a condition in which tissue on the eyelid turns outward.
Revision blepharoplasty can improve the appearance of the eyes when one or more of these complications has developed. However, depending on the extent of the problem, a 100% correction may not be possible. You can expect your board-certified surgeon to communicate clearly with you regarding the predicted outcome of your procedure.
---
What to expect during your consultation with our team
When you arrive to your consultation, you will need to provide a medical history, as we need to know about major illnesses and problems such as heart disease and hypertension. It's important that our team learn the details of your prior facial surgery. Bringing old photographs from before your first operation can be especially helpful.
Our team will ask you what aspect of your eyelids and face bother you since your first surgery and will discuss options to correct it. A mutual understanding of the goals, expectations, and outcomes is essential to an optimal result!
During your consultation, an examination is also performed to look at any eye conditions such as dry eye, which could limit or alter the surgical plan or be a concern after your procedure. Depending on the findings of our consultation and analysis, we may recommend a different surgery altogether to achieve the desired outcome. Sometimes, the facial structure and initial results from surgery are best addressed with a procedure such as a brow lift, mid facelift, or fat transfer.
Our team is attuned to eye diseases and concerns. Our team is routinely referred patients by some of the best facial and cosmetic surgeons in the area because of this expertise and ability to safely operate on patients at higher risk for complications.
---
Revision Blepharoplasty Procedure
Every case is different, and it depends upon what has caused the problem and what needs to be corrected. In most cases, you can have the surgery on an outpatient basis, and the recovery is similar to that for your first blepharoplasty. Again, however, this varies from person to person. If your complication is more severe, the surgery will likely be more complex and may require a longer recovery period.
---
How can I prepare for my revision eyelid surgery?
Patients scheduled for revision blepharoplasty will receive direct guidance from the surgical team to help them prepare. In the weeks before this procedure, patients may be advised to quit smoking, if applicable, and to switch or avoid certain medications and supplements that may create a higher bleeding risk.
---
Recovery After Corrective Eyelid Surgery
Recovery processes are very individualized and usually relate to the type of corrective surgery that is performed. For example, the technique involved in revising an overly-corrected eyelid may require more time in the operating room, which translates into a lengthier recovery. Revisional surgery for under-correction, on the other hand, is less complex and usually requires a shorter recovery period than other techniques.
However your eyelids are corrected in your revisional procedure, you can expect some degree of bruising and swelling around your eyes. These side effects gradually decrease over a few weeks For the first few days after surgery, it is common to experience a bit of blurry vision as well as tearing and light sensitivity. Discomfort is typically mild and manageable with over-the-counter pain-relieving medication. If necessary, prescription pain medication can be arranged.
---
Corrective Blepharoplasty Results
The objective in performing revision blepharoplasty is to give you the results you expected from your initial surgery. When a second surgery is performed years after the first to address the signs of aging, the objective is to refresh the face by carefully refining the tissue around the eyes. We thoroughly discuss the results we expect for each patient based on their unique situation. What is achieved with revision blepharoplasty lasts for years
---
Lower Blepharoplasty
Before & After
---
Upper Blepharoplasty
Before & After
---
Is revision eyelid surgery dangerous?
Although there may be higher risks for complications for patients seeking revision blepharoplasty, these risks can be well-managed by an experienced surgeon. Patients who are dissatisfied with the outcome of eyelid rejuvenation surgery are encouraged to take their time in considering their expectations for revision and to compare those expectations with the predictions made by a skilled, board-certified plastic surgeon.
The risks that are associated with revision blepharoplasty do not indicate that the procedure is dangerous. The primary concern is rushing into a surgical procedure with a doctor who is not sufficiently trained in correcting poor surgical outcomes. This can exacerbate the original problem or result in unwanted complications.
Our physicians have received specific training in the performance of oculofacial plastic and reconstructive surgery. We are here to help patients explore what is possible for them in our experienced hands.
---
Is revision eyelid surgery painful?
Revision eyelid surgery is no more painful than any blepharoplasty procedure. Appropriate anesthesia is administered to ensure that patients are completely comfortable during their surgery. Pain medication is also prescribed to post-operative comfort. Additional strategies for pain management can be discussed during our follow-up visit that occurs shortly after surgery.
---
Is revision eyelid surgery covered by insurance?
Cosmetic eyelid surgery is elective in most situations. Even when the aesthetic outcome of blepharoplasty is unsatisfactory, insurance companies do not extend benefits to cover necessary revision. The only exception for blepharoplasty is when the procedure is needed to remove tissue that is obstructing the field of vision. This is referred to as functional blepharoplasty and may require an extensive pre-authorization assessment for coverage.
---
How much does revision eyelid surgery cost?
Revision eyelid surgery is a customized procedure that will involve varying degrees of correction based on each patient's circumstances. Costs associated with surgery include the surgeon's experience, reflected in their fees, anesthetic, surgical facility costs, and medical supplies. If you choose our office for your revision surgery, you can expect a thorough breakdown of costs and discussion about the details of your procedure and how it will improve your appearance.
---
Are there side effects to revision eyelid surgery?
There are risks for short-term and long-term side effects and complications after blepharoplasty. These risks may be increased for those undergoing revision surgeries because the surgeon must navigate the scar tissue that had formed after the initial procedure. For this reason, it is necessary to carefully consider who performs revision blepharoplasty.
Many of the side effects that are associated with revision blepharoplasty are similar to those that may occur after initial eyelid surgery. These include a risk of infection and scarring. Patients should expect mild to moderate swelling, bruising, and discomfort after their revision surgery. Consistent follow-up and contact with our team can aid in expediting optimal healing.
---
Schedule a Consultation
If you are dissatisfied with prior eyelid surgery, please call us immediately at
314-567-3567
so that we can correct it for you as soon as possible with Revision Eyelid Surgery.